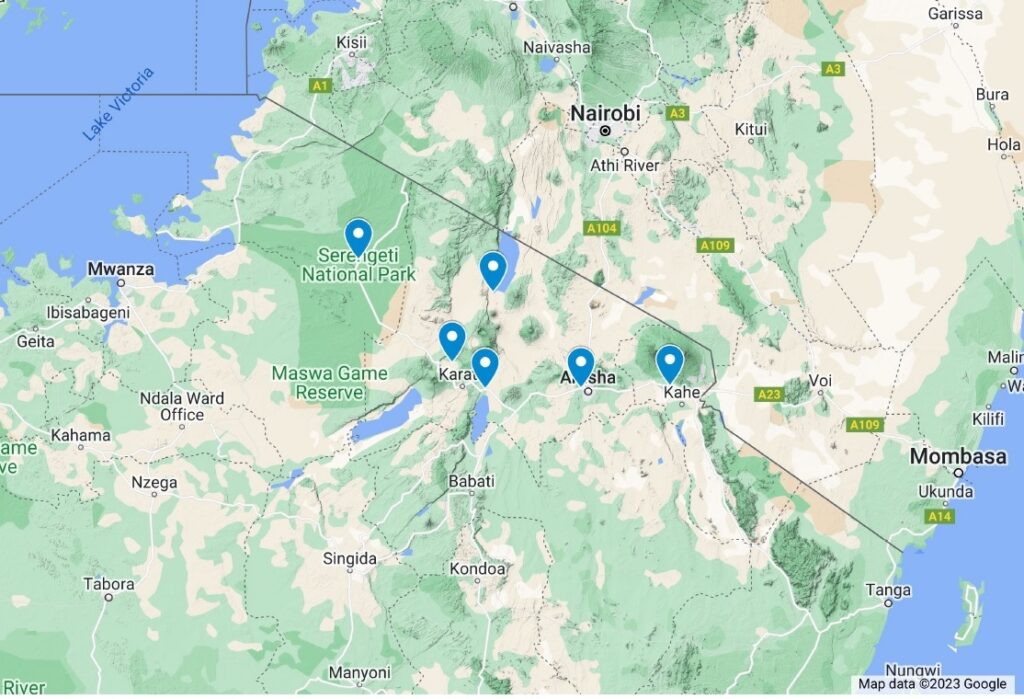 Trip destinations: Moshi, Lake Manyara, Ngorongoro, Serengeti, Lake Natron, Arusha
Accommodation
The accommodation on this trip is a mixture of standard safari tented camps and lodges with proper beds (6 nights) in national parks and good quality, lovely establishments (3 nights) in towns specially chosen for their location, uniqueness, value for money, or excellent facilities. All tents/rooms have private ensuite bathroom.
All rooms and tents on all trips are shared with two people in each room/tent. You'll have the option of a double bed or two single beds. Rooms may vary slightly by layout and view and will be assigned based on booking order.
Solo travelers will be paired up with another participant of same gender. If you explicitly wish to have your own room/tent, or if we cannot find another participant to share that room/tent, there will be an extra surcharge as noted on the booking form.
We will be staying inside the Serengeti National Park and Ngorongoro Conservation Area not to waste time traveling between places so that we can maximize the safari experience. You should not miss the experience of hearing the hyenas or lions roaring in the distance in the night, and being woken up in the morning by the unique African sunrise.
All chosen lodges and campsites are subject to availability, and the full list will be available once the minimum number of participants is reached.
Please note that this is Africa and one cannot expect the western standards in the places visited. Especially with respect to service, expect a lovely "laid back, unhurried" environment. In the bush, one should not expect Wi-Fi at all. Safari tented camps will run on solar powered lights and bucket showers providing a decent level of comfort yet maximum bush adventure.
Meals
On safari days, breakfasts and dinners will be taken at the dining facilities of the accommodation. Lunch will be packed and provided at check out, so that we can maximize the time spent on safari. While staying in towns, we'll have the freedom of trying out different restaurants, hence 1 dinner and 1 lunch are not included to diversify the options. Our guides will be happy to recommend good restaurants on the days when lunch or/and dinner are not included.
Vegetarians can be catered for if you inform us upon booking, however, note that the options can be extremely limited. For other dietary requirements (vegan, gluten-free, allergies, etc.), please contact us to discuss the best course of action for you.
Transport
We'll use 4×4 safari vehicle with a pop-up roof and guaranteed window seat with 6 or less travellers per vehicle. Our group size is limited to 2 safari vehicles (12 pax at most).
Passports and Visas
Your passport must be valid for a minimum period of six months from the date you arrive in Tanzania and have at least three blank pages, two facing each other.
Holders of ordinary passports issued by most nations, including EU nationalities (except Malta, Cyprus), the US, the UK, Turkey, need a visa to enter Tanzania. Please check the up to date list of visa-free countries here: https://visa.immigration.go.tz/guidelines
Tanzania has introduced an e-visa system through which applications can be submitted and approved online prior to travel (allow 2-3 weeks for processing). Please check the progress of the visa yourself on the visa.immigration.go.tz website using your application number. The visa is usually NOT sent by e-mail.
Alternatively, It's also possible to obtain a tourist visa on arrival for a single entry at the main ports of entry to Tanzania. You may be required to provide a proof of return ticket. Visas currently cost $50 USD for a single entry, with the exception of US citizens for whom a single-entry visa cost $100 USD.
Please consult the Tanzanian Embassy/Consulate (e.g. Berlin https://www.de.tzembassy.go.tz) in your country of origin for further information about visas, or visit the Tanzanian immigration website: https://www.immigration.go.tz
You must ensure that passports and visas are valid for the countries visited. If your passport is in its final year, you should check with the Embassy of the country you are visiting.
Health/Vaccinations
Disclaimer: The following information is intended as a guide only and is not intended to replace professional advice. We, at MAHO on Earth, cannot guarantee that the following information is complete, up-to-date, accurate, or error-free.
As of the publishing date, there are no mandatory vaccinations to enter Tanzania, however, since the information may change quickly, we advise you to follow up on the latest travel updates and/or contact your local embassy.
If you are entering Tanzania from a yellow-fewer region or have a transit time of more than 12 hours in these countries, you may need to present proof of yellow-fewer vaccination. If it is the case and you do not have the vaccination, you may be given it at the airport or refused entry. Please consult with your local authorities. Yellow fever vaccination is officially required for onward travel to Zanzibar.
The places visited on this trip pose a risk of Malaria. We do highly recommend that you obtain professional travel health advice at your doctor or an institute of tropical medicine with respect to your individual needs and your intended travel, including advice on vaccinations, anti-malarial and other medications based on your past vaccination history, your present medical condition, and your intended itinerary.
Physical Level
To join this trip, you'll need to have a reasonable level of fitness. While not too strenuous, the tour involves somewhat long journeys on gravel roads (this is Africa), a fair amount of walking, early-morning wake-up calls, being in the sun in potentially hot temperatures, cold nights/mornings, and other similar scenarios.
Requirements to participate to Kilimanjaro Marathon, Half Marathon, or 5K Run are as follows:
Full 42km Marathon 21 yrs and older, male and female
Half 21km Marathon 18 yrs and older male and female
5km FUN RUN – No official results will be produced, ages 10 years and older if unaccompanied by an adult. No age limit under adult supervision.
*Note: We require a copy of your valid passport and your written permission to collect the race entry number on your behalf. It's part of our service to you, however if you wish to collect your bib number yourself, you may do so on Friday, 23 Feb 10am – 6pm (10h00 – 18h00) in Moshi. Theoretically, Saturday would be the last chance to collect your bib number, but this is not practical due to waiting in line for potentially several hours.
Can you skip the race?
Yes you can sign up for the tour and skip the race, though we think everyone should experience the 5K Fun Run at least, but equally we want everyone to have a good time.
Special requests
This trip may not be suitable for people with special needs such as reduced mobility due to local conditions and activities. If in doubt, please contact us.
Please do not send sensitive information (such as health, accident or other highly personal information) through our contact form. You may want to get in touch with us directly via phone instead.
Insurance
We do strongly recommend you take out travel insurance as soon as you make your deposit to ensure the most coverage. Your travel insurance policy should at least cover medical expenses, trip cancellations, activities you intend to do, and repatriation in the event of an accident or illness. We will reach out and collect your travel insurance and emergency contact details shortly before the departure date. Your trip price with us does not include any travel insurance. Travel insurance policies are generally speaking more economical when taken out locally in your country of origin.
What to pack (Cash & Co)
While your trip with us cover most of the expenses, things such as alcoholic beverages, souvenirs, snacks, laundry, visa fee, and tips for local guides/driver are examples of a few additional costs that might arise during your safari. Any optional activity is mentioned clearly so that you don't have to worry about hidden costs.
Tanzania accepts the USD or EUR for tourism. While credit cards are accepted, there is usually an additional fee up to 10%. ATMs are scarce outside of bigger towns. We recommend carrying some cash and budgeting around $20 – $50 USD per day for incidental expenses and tips.
Please note: Our tour prices do not include tips/gratuities for the local guides, as tipping is discretionary and should be based on your satisfaction with the service provided. It is however customary to express your appreciation for a job well done, and guidelines will be given on tipping local guides.
Further details and recommendations on what to pack will be provided prior to departure.
Travel Companions
We care about getting to know our fellow travellers, hence we keep our groups small and intimate. Our tours usually run with 12 or fewer participants and require a minimum of 8 participants to take place. It will be an international group and the main language will be English. We also speak German and Turkish.
People from all walks of life and nationalities, singles, couples, friends, and families with a sense of adventure, an open mind, and an open heart can join our tours. We consider each trip as an opportunity to cultivate our travel persona with humility, curiosity, and respect, what we call a "Mindful Adventure".
The Adventure with us
This trip is handcrafted by Maho and peer-reviewed by Tom, and they will be present to ensure a smooth operation on the ground as well as share their passion for authentic experiences, unparalleled adventures, photography and more with you. Designing a trip is engineering work, and this is not a cookie-cutter tour. Maho and Tom, founders and owners of MAHO on Earth, curated this itinerary to make the best use of your hard-earned bucks and vacation days with lots of wonderful handpicked activities and locations included!
We want you to have the most rewarding experience possible. We take care of all the hassle of planning, and you can enjoy your vacation with peace of mind, not least because we support social projects and NGOs, and partner with the best local enterprises.
Join us on this Mindful Adventure, Highlands to Oceans in Tanzania!
How to book your spot
To reserve your spot, please send us an email at team@earthmaho.com or use our booking form!
When booking for multiple persons, the first named person is the lead participant in charge. If you are booking for a party of 3 or more with individual requests (e.g. single room, triple room, runner/non-runner etc.), please get in touch via email or phone (WhatsApp).
Please note, the minimum age to participate in this tour is18. Payment plan is outlined at this link: https://earthmaho.com/payment-terms
Once we have received your deposit, we will send you another email to confirm your spot on the trip, a deposit receipt, and an invoice for the balance payment. Your confirmation will include appropriate information on local health services, authorities and consular support.
This trip requires a minimum of 6 participants to run. We will notify you when it is a guaranteed departure! Please do not make any non-refundable airfare bookings or additional arrangements just yet.
Once we have reached the minimum number of participants, we'll reach out to confirm the departure, and send you your pre-departure information pack to help you prepare for the trip. You can then book your flights and get excited about your upcoming adventure!
Should you need any support with your pre or post-tour travel arrangements, we are here to help.
Have a question?
Have we missed anything?
Don't hesitate to contact us if you have any questions or if you're ready to make your Tanzania dream a reality.
Can't make this one? Then, simply sign up for our newsletter to be the first to know when registration opens on future trips.
*Please note, 2025 marathon dates will be confirmed by mid summer 2024. You can however register interest now.